Home
Art Education, Personal Development, Tutoring, and Test Preparation
We are preparing for G&T, Mark Twain / Bay Academy Special Talents / Art, Science, Vocal, Guitar / , State Tests,  SHSAT, High School and College Art Portfolio.
Brighton Kids Club is an Educational Center for children and adults offering a range of programs for all ages: Art for kids & adults, Tutoring, Test preparation, Creative Writing, Drama, Russian, and Sports / Judo, Karate, Chess, Rhythmic Gymnastics /
Education through Art programs are available for ages 1 y.o. and up. Mommy & Me, Brain Train, Drama, Music, Dance, Sports. All programs are designed to build basic skills for lifelong learning which can be applied to future careers and occupations. We strive for our students to enjoy learning, expand their creativity, increase their focus and concentration, and the ability to complete any project at hand.
Tutoring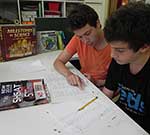 We offer group and individual tutoring for admission & school exams.
Testimonials
Brighton Kids Club is excellent! We love everything about it and the most important thing that my two and a half absolutely adores it. Easy-going atmosphere with many toys, musical instruments and plenty of space. This is the place to come if you want your child to learn how to draw, dance or just get to meet other bright kids.
Denis Korets