Mommy & Me classes for the youngest, 1-2 year old kids, are the first educational step in your baby's life. The earlier you introduce your child to the endless world of knowledge, and start to build up learning skills – the quicker will you see milestones in their natural development.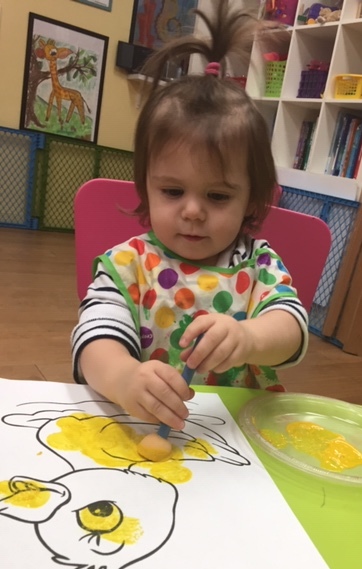 Our class time (60 minutes) is divided in four parts, which allows us to keep the baby's attention during the duration of the class and extend their attention time span.
First part is physical education with soft blocks, ball tunnels and  obstacle courses. It is very important to stimulate baby's strength, coordination and reactions.
Second part is rhythm & music education. Playing simple musical instruments such as maracas, shakers, tambourines, and wrist bells.
This early access to musical learning offers your little one a unique way to express their creativity and musicality. Inspire them to sing, play, and learn; develop their rhythm & musicality. Little hands and voices are eager for music! 
Exposure to music helps your child develop hand-eye-coordination, an alert sense of musicality, and an active and eager mind. 
Third part is Art: Kids love to express themselves through art! So, lets make Art a starting point in children's development!
Exploring paint and Play-Doh will help children improve their fine motor skills, and by mixing colors young children learn colors and simple cause & effect relationships.
Fourth part is putting together puzzles and wooden construction, using Melissa & Doug, creating beautifully designed imagination- and creativity-sparking products that NBC News called "the gold standard in early childhood play." This hands-on play experience give kids another engaging option for screen-free fun.
Registration is required for class attendance