---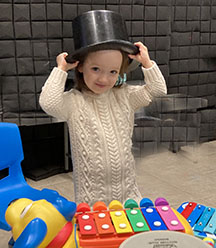 ---
Music for kids
Welcome all kids 1 year old and up! Music with Mom ! Piano and music private lessons for all ages! Brighton Kids Club is a place to nurture every kind of creative person. Music has a very crucial effect on the child's brain by activating connections between nerve cells. The first 6 years of a child's life is the most important period for the development of the nervous system and brain, so it is very important to introduce your child to music, espessially classical, as early as possible. Children who study music consume information better, memorize new material faster and have no problems with concentration. Children who attend musical classes at an early age are easier to master mathematics, foreign languages , logic and science.
Music
Are you looking for a fun and engaging way to introduce your child to the world of music? Look no further than our music classes for kids!
Our classes are designed for children of all ages and skill levels, from beginners to more experienced young musicians. Our experienced teachers will help your child develop their musical skills in a supportive and nurturing environment, using a variety of techniques and approaches to make learning music fun and engaging.
We offer a range of classes, from group lessons to individual instruction, and our curriculum is tailored to meet the needs and interests of each individual child. Whether your child is interested in learning playing piano, exploring different styles of music, or simply having fun making music with other kids, we have a class that is right for them.
In addition to our regular classes, we also offer special events and performances throughout the year, giving your child the opportunity to showcase their skills and talents for family and friends.
So why wait? Sign up your child for our music classes today and give them the gift of music that will last a lifetime!