Fashion Design course for Future Designers!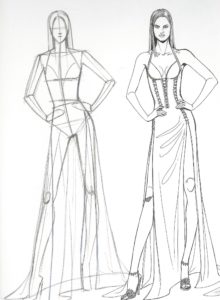 No previous experience is required, but all Art Talent Middle School students are welcomed to gain new skills and to widen your portfolio for high school and college. This new, step-by-step course includes methods and sketching techniques by using the various tools at a fashion designer's disposal. Students will then translate their ideas into reality by sewing unique designs into real clothing pieces.
With training and practice, anyone can develop their ability to draw graphic
fashion illustrations. Unlike regular descriptive drawing, fashion illustration does not aim for realism. It emphasizes creating a stylized and exaggerated version of reality.
This class will be taught by our very own art teacher Maria Polylikov (Master degree in fine & apply arts from Stroganov Moscow State University of Arts and Industry). The sewing of the designs we create will be done alongside Olga Kapustina – Design studio instructor at Parsons School of Design, former head designer at Anthropologie.
Come and join our relaxed and fun class!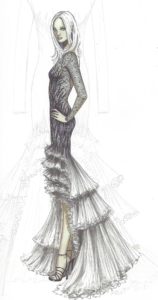 Learn how to draw human figures for fashion
Accessories and Jewelry Design
Experiment with using different media (charcoal, markers, paint, pencils)
Develop your own style of Fashion Sketching
See what your imagination is capable of creating